What a bunch of pretentious BS. I don't understand the bloggers premise that people should comform or adhere to a formal belief system and embrace a dogma that isn't comfortable for them.

Formal systems of spiritual belief are useful. They bring together people into a community, which the yogis call sangha, and the community is a support system, especially when people are celebrating the stages in life that we all go through, life, death, marriage, and other celebrations. Most people that I know that adhere to a formal system, don't necessarily embrace or approve of all of it's tenets and I would think most faith leaders acknowledge and understand that. It is part of their job, to pull their flocks together and preach the word of their 'God'.

For many of us, the formal systems have broke down for us at some period in our lives and we are not able to comform to the faith we grew up with. For me it is the Catholic church, and for whatever reason I don't practice the faith I grew up with, there are still many of the doctrines of the faith I have held on to, while also finding, through study of other systems, a way I can be faithful, without feeling guilty, for example, if I don't attend church on Sunday morning.

The picture on this article shows a young man, with dreads, sitting and practicing some sort of meditation. The implication is that he is some sort of lazy loser who doesn't have the structure in his life or discipline to adhere to one system.

I know people also who have floated faith to faith and then come back to their own initial church.

The system of yoga is a system of finding oneness with the head of their faith system, whatever it is. Most faiths have that some goal of unification and joining together. There are more similarities between our many global systems of faith than there are differecnes and everyone should respect that.
CNN Belief Blog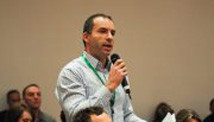 By Alan Miller, Special to CNN
Editor's note: Alan Miller is Director of The New York Salon and Co-Founder of London's Old Truman Brewery. He is speaking at The Battle of Ideas at London's Barbican in October.
By Alan Miller, Special to CNN
The increasingly common refrain that "I'm spiritual, but not religious," represents some of the most retrogressive aspects of contemporary society. The spiritual but not religious "movement" — an inappropriate term as that would suggest some collective, organizational aspect — highlights the implosion of belief that has struck at the heart of Western society.
Spiritual but not religious people are especially prevalent in the younger population in the United States, although a recent study has argued that it is not so much that people have stopped believing in God, but rather have drifted from formal institutions.
View original post 724 more words